iTrail® Solo 4G LTE GPS Tracker + Case
SKU:

GPS931-4G

MANUAL:
Free Ground Shipping On Most Orders*
Details
Our iTrail® Solo 4G LTE GPS Tracker is paired with the trusted magnetic & waterproof ROC BOX case, this is one of our best choices when you need a reliable up to the minute GPS tracking device. Featuring a long-lasting battery, a micro tracker design, mobile alerts, and SOS button (in case of emergency), the iTrail Solo is the personal real time GPS tracker that has it all.
iTrail® Solo 4G LTE GPS Tracker + Case
GPS931-4G
Covert Tracking
Secretly track vehicles, loved one's, assets, and more using the iTrail® Solo 4G LTE GPS Tracker. The micro GPS tracker design means you can hide the device anywhere. The iTrail® Solo fits in a backpack, a glove box, can be mounted underneath a vehicle, and is small enough to slip between the cracks.
Mobile Alerts
Start by downloading the iTrail® Live mobile to receive real time GPS tracking updates to your mobile device from anywhere at anytime. Your tracker is visible from anywhere when you use our iTrail Live mobile app and web-based tracking software. iTrail Live will provide detailed reports, historical information, and includes every feature you need to be alerted to the location of your device whether it's in motion or not.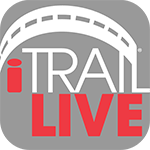 Don't have mobile access? No problem. iTrail Live offers a convenient web-based login point that can be accessed from any computer at anytime.
Powerful Battery Operation
Inside every iTrail® Solo is a built-in rechargeable battery. Never worry whether you have enough battery to finish the job because mobile alert features instantly notify you when the battery needs charging. Need more power? If you need to get a longer lasting GPS, we suggest looking at the iTrail Connect.
Roc Box GPS Case
This case makes for easy rapid deployment without worry of the device coming loose or sinking. The double built-in 80 lbs. magnets allow for attachment anywhere giving a stronghold of defense against the elements. Weatherproof seal surrounds the perimeter of the lid and body, keeping all the contents dry and clean with the IP66 Waterproof buoyant material. Don't worry about the rough or wet terrain, the Roc Box is built for long term protection and surveillance.
Reliable Coverage
Your iTrail® Solo uses 4G LTE cellular network so you receive reliable, North American coverage in US, Canada & Mexico. Choose from multiple data plans with no annual, or monthly contract. You service will be billed monthly and can be canceled at anytime.
✔ Personal Plan - $29.95/month with 1 minute updates
✔ Personal Plus Plan - $34.95/month with 30 second updates
✔ Perfect 10 Plan - $39.95/month with 10 second updates
Amazing Utility
✔ Law Enforcement Tracking
✔ Monitor Teen Driver Behavior and Assure Safety
✔ Executive Protection Tracking
✔ Asset Tracking
Features:
4G LTE Network

Real-time GPS Tracking w/ location updates at 30 or 60 Seconds

No Contracts

Access GPS Tracker from anywhere at anytime

Free Mobile App Provides Full Tracking Control

Web-Based Tracking w/ Full Tracking Control

Text Message(SMS) Alerts

Arrival Alerts

Departure Alerts

Low Battery Alerts

Geofencing

SOS/Panic Button

Motion Sensing Battery Saver

Historical Playback

Text Reports

PC/MAC Compatible

Navigation Feature

LiveShare Feature

On/Off Switch
Specifications:
Rapid Installation

CELLULAR: 4G LTE | LTE eMTC/NB-loT | LTE B2/B4/B12/B13

80 lbs Magnetic Waterproof Case

Standby time: Without reporting [400 hours or 16.5 days] 5 Min Reporting [140 hours or 5.5 days] 10 min reporting: [180 hours or 7.5 days]

Water Resistant

OTA Control

Transmit Protocol: TCP, UDP, SMS

Scheduled Report: Report position and status based on preset time intervals, distance, mileage or a combination of these settings

Geo-Fences: Supports up to 20 fences

SOS/ Emergency Button: Alarm based on digital inputs

Low Power Alarm: Alarm when battery is low

Power Button: Power On and Off, can be disabled via air interface protocol

Special Alarm: Special alarm based on digital inputs

Motion Detection: Motion alarm based on interval 3-axis accelerometer

Vibration Feedback: Function Button with Vibration Feedback-Emergency alert or instant geo-fence setting

Ignition Detection: Digital Inputs: 1 positive trigger input for ignition detection, 1 negative trigger input for normal use

LED Indicators: CEL, GNSS, PWR

Position Accuracy (CEP): Autonomous: 2.5m

Certificate: PTCRB/FCC/Verizon/AT&T

GNSS Type: u-blox All in One GNSS receiver

Cellular Antenna: Internal Only

GNSS Antenna: Internal Only

USB 2.0 Port: Charging and Configuration

Battery: Li-Polymer 2600 mAh

Operating Temperature: -4º to 131ºF or -20° to 55°C

Dimensions: 1.57 x 1.05 x 3.07 in.

Weight: 3.28 oz. or .21 lbs.
Includes:
iTrail GPS Tracker

iTrail Charger

Roc Box Case

iTrail SIM

iTrail IEM & Serial Number

iTrail Subscription Plan (Separate but Required)

iTrail Live App (Download free from the iOS App Store or Google Play Store)

iTrail Live Web Tracking Platform (http://track.myitrail.com)
Frequently Asked Questions
Q. Is there a monthly fee for this tracking service?
A. Yes, the standard tracking fee is $29.95 per month, or you can choose our Personal Plan Plus and receive faster updates for $34.95 per month.
Q. Due I have to sign a contract?
A. No, there are no contracts. You are billed monthly and can cancel the service at any time without penalty.
Q. Is it legal to track someone?
A. Courts have continuously upheld the rights of vehicle owners to track their vehicles using GPS technology. Most users who run into legal trouble do so when placing trackers on vehicles that they have no legal ownership of. If you are using these trackers to track a vehicle that does not belong to you are you don't have a legal right to operate you are just asking for trouble.
Q. How often does the tracker update?
A. The default is 1 min. updates while in motion and every hour when no motion is detected (vehicle parked). You can adjust this rate to increase report rates that will in turn increase battery life.
Q. Can this tracker be hidden inside a vehicle or backpack?
A. Absolutely, the built in GPS antenna is supersensitive and will receive GPS signals under seats, in glove compartments, inside backpacks or other containers.
Q. Will the GPS tracking server give me an exact address where the tracker is?
A. Most of the time, yes. We use Google maps and sometimes the addresses are off by a house number or two. You do have the ability to view the satellite version of the map which will show you greater detail. For instance, a tracker placed in a car in the driveway will actually show you a location indicator on the driveway. If it is parked in the street, it will show it in the street on the map.
Q. Am I able to login to the GPS server from my cell phone?
A. Yes, iTrail Live tracking software offers a free mobile app to work with any Apple or Android devices.
Q. Can I have multiple trackers on one map?
A. Yes we can accommodate fleet tracking for you at no additional charge. Simply purchase an additional tracker and we will add it to your existing account.
This product hasn't received any reviews yet. Be the first to review this product!
Write a Review
Free Standard Shipping within the Continental United States for orders over $150.00
Upgraded shipping options available.
We are not a try and return company. We take great pride in what we sell and promise that your product will work or we will replace it. A lot of people will buy a product, use it for a short while then return it. We are not a rental company. You will incur shipping charges and restocking fees of up to 25%. If you have any doubts as to whether a product is suitable for your situation PLEASE call us and discuss first.
We stand behind what we sell 100%. You are guaranteed complete satisfaction. If it's not right, we'll make it right. Should you ever have a problem with anything you purchase from Spygadgets rest assured that you are covered.
Please read the following information so there is no question what will happen in the event you need to return a product.


We understand that sometimes an Item is not suited for the purpose you intend it for. We expect you to get a good quality item to suit your needs. We do not expect to have items returned that have been used, mis-handled, abused or broken. This is unacceptable.
Spygadgets.com return policy.
Most items can be returned within 15 days of receiving them, we believe that 15 days in your possession, is enough time to determine if any item will be suitable for your needs. (The receiving date is when it was delivered to you.) If you are unsure as to what item may work for your situation please call or email us, before ordering.

Non-Defective return items must be in perfect condition.
We understand that you will open the box and test the device.
Any non-defective returned items, that have obviously been used for its purpose, mistreated or broken and returned are subject to a 25% fee or returned to you at our discretion.
In the unlikely event that you receive a defective item alternate instructions will be provided when you request an RMA,

RMA (Return Merchandise Authorization)
ALL items must have an RMA number. You need to obtain an RMA number from us before sending any item back for any reason.
When you are issued an RMA you will be provided with a return address and instructions on how to pack , ship and identify the package to us. If an item cannot be identified it may be refused and will be returned to the sender. All items are your responsibility until they have been accepted at our facility.
Restocking Fees
Non-defective items returned to us are subject to a 15% restocking fee. This fee can be as high as 25% if an item is returned with missing or broken parts.
Shipping Charges. No shipping monies will be refunded.
You will be responsible for all shipping costs, to get the item back to us. These costs may include insurance, import fees, customs fees, taxes or broker fees,
Some Items can not be returned for any reason
GPS:No GPS tracker can be returned for any reason. A defective device will be replaced with the same or equal item. No refund no credits.
Counter Surveillance Devices:
Counter Surveillance devices including Bug detectors, countermeasures kits, phone line analyzers or any device used to locate a surveillance device. Defective items will be replaced No refunds No credits,
Software or Software Devices:
No returns for software of any kind are accepted.

Refund or Credit:
As long as you meet the criteria included in this policy, we will apply a refund through our processor to your original form of payment. We may also offer a store credit if the original form of payment is unavailable.

Last updated 5-3-2019 Exceptions to this policy may be made in extreme cases. Such exceptions are at our discretion and will be made on a per case basis. By placing an order, you agree to our Return policy
If you do not agree with this policy your only recourse is to not use the site.
Frequently Bought Together
Please choose options for all selected products